Thinking of going to the aquarium with kids…?
Good choice!
However, like any other weekend day out, a good plan will make your day even more effective. Planning ahead gets even more important when kids are around. It's hard to improvise with them, and after driving for so long, missing a spot will not be that fun.
That's why we have prepared everything to make you the aqua-man for that day. You will find an array of things you should be concerned about before, during, and after the visit.
Choose the perfect time
Aquariums are crowded places. They are very popular and usually packed with people, which is a bad situation if you have kids with you.
So, avoid going on peak days or peak hours to avoid the crowd. You can go right after the aquarium opens as it is least crowded in the morning. Do not go on a holiday or in any evening when most of the people visit. Furthermore, it is all the same when you get inside the aquarium.
Draw it out
Roaming in the aquarium without a plan will only make the kids tired. The aquariums are enormous, and you have to be selective. Set your priorities first.
Visit the website of the aquarium and find out what are the specialties. Make a schedule of the tour thoroughly. Put the most exciting things or things you want to see first on the list.
Planning will help you to have a better tour, and it will exempt you from indecision. Indecision can hamper a trip, especially when you have kids with you.
Be ready
You have to prepare and pack up before you head-out. When you go to the aquarium, you need binoculars as they will help you see the distant and miniature marine life clearly. This one is a must for the trip. You can also take spare clothes and magnifying glasses with you.
And, if you don't like junk food outside, you have to have to bring some snacks with you. If the aquarium you're visiting has a proper food court, you might even bring your lunch there. Bring the items in a backpack, and it will be easier to roam around.
Instructing kids
Before you take your kids to an aquarium, make sure they hear you out and don't go wreaking havoc in the aquarium.
Tell your kids that they can look and touch, but they cannot bang on the glass or kick it. Tell them not to take out the animals out of water. You might ask them how they would feel if the same was done to them. Make sure your kids do not run away from you.
Most aquariums don't have cellphone networks in them. So, if you need to split up in groups, fix the time and spot of reuniting. However, splitting up in groups is never a good idea.
Kids can start getting annoyed when they are walking for a long time. Take a break in the middle. Go to the cafeteria and have some food. If you have infants, toddlers, or even preschoolers, take a stroller with you. You can also hire strollers in some of the aquariums. Find out if your destined aquarium provides this facility.
Some kids tend to leave their strollers. Be aware of that. Dress your kids in a light-colored attire as the aquarium is usually very dark.
Interact with kids
Don't just roam around the aquarium. Tell kids about the animals. Answer their questions. This is an excellent opportunity to teach them about sea life. Teach them how an aquarium is formed. Talk to them about the Aquarium Canister Filter.
The purpose of visiting an aquarium won't be fulfilled entirely if all your kids do is watch stuff without learning anything at all.
Most of the aquariums have special attractions, and kids love them. Your kids will be very much happy if they see a dolphin doing tricks. There will be animals that they have never seen before in books or on the internet. Those get them fascinated the most.
Go to the website of the aquarium you want to visit. Sort out the specialties. Find out when the show is scheduled, try to avoid the peak hours if you can.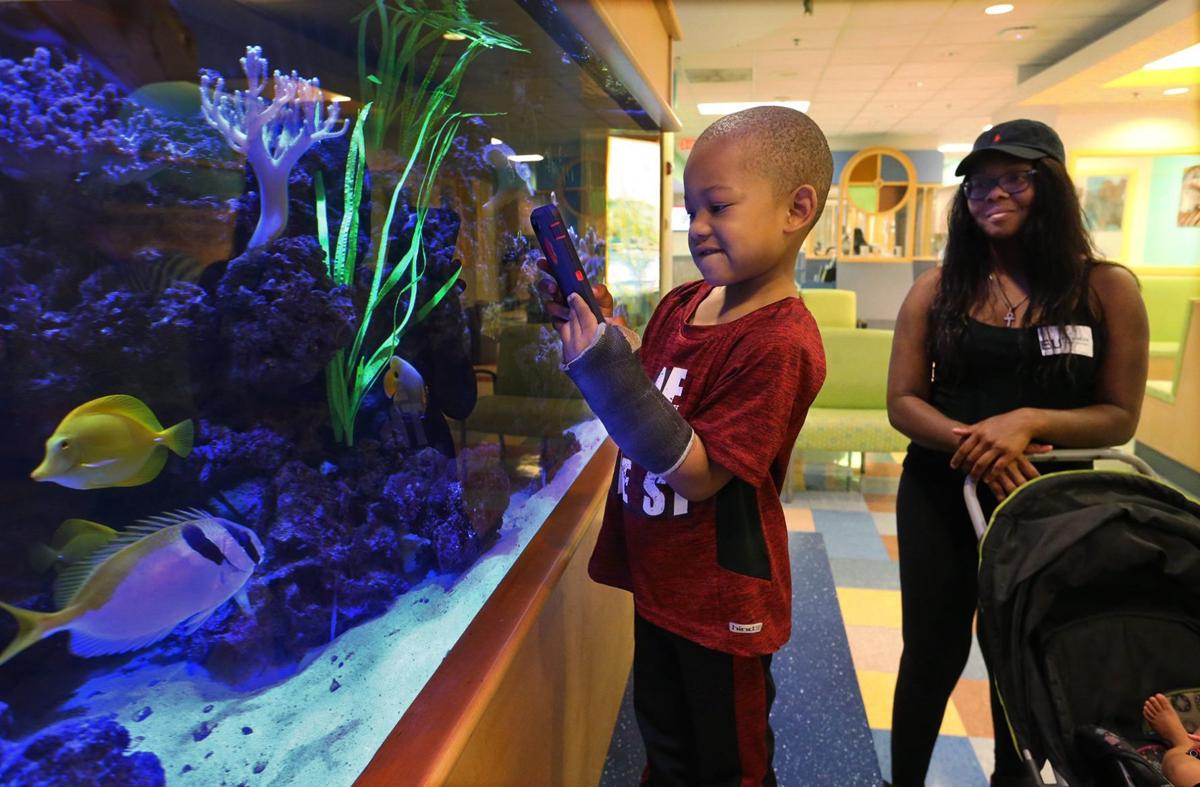 Feeding
Feeding is an activity where kids can participate directly. It will enable them to have more fun than any other activity. Feeding animals is fun, safe, and legal! This is a direct way to interact with aquatic life.
Let your kids take part in this activity. They will get to learn a great deal from this and enjoy it a lot as well.
Make sure the aquarium you're going to allows feeding animals. Also, be careful to look after your kids. Avoid if it is jammed with too many people.
Retreating
Kids might be overwhelmed by the seemingly unending roaming and the vast amount of knowledge. Kids might get tired or afraid. Don't hesitate to retreat in that situation. You might also take a break to relieve them of the tension.
Go to the cafeteria, washroom, office, anywhere that has a different persona. This change of environment will help them in coping with the situation of the aquarium. However, if they are afraid or start crying, you can always retreat.
Take them home and talk it out if they are old enough. Maybe take them to the aquarium another day after you have an understanding with them.
Conclusion
The tips given here can help you when taking kids to visit an aquarium. Make sure you are entirely prepared and be prepared to solve the problems that you may have to face.
An aquarium is an awesome place to visit not only for your children but also for adults. Make sure your children enjoy and learn from the experience. Safety should always be put first, especially when it comes to kids.
Hope these advices help you in taking kids to visit an aquarium!